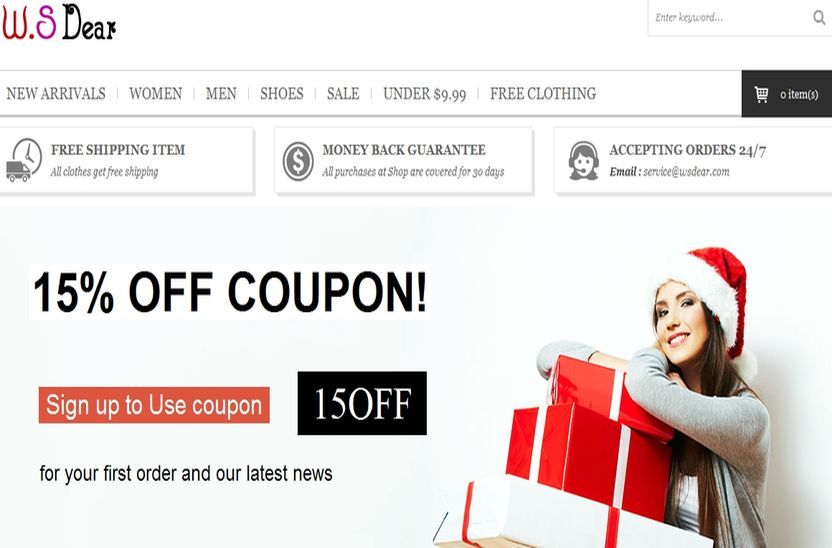 ¡Hola a todos! Para no perder la costumbre de recomendar nuevas tiendas online de moda, hoy traigo una completamente novedosa para mí, e imagino que para alguna de ustedes también: WSDear. Fue fundada en 2008, dedicándose a proporcionar a sus clientes más jovenes ropa elegante y completamente en tendencia. Sus productos están diseñados para satisfacer las necesidades tanto de hombres como mujeres, expresando perfectamente el buen gusto, la moda y la elegancia en los grupos urbanos. Las tendencias más actuales y el diseño clásico se integran para satisfacer las necesidades de vestimenta en cada ocasión, ya sea trabajo u ocio. Además, tienen unos precios sumamnete razonables ofreciendo siempre la máxima calidad. Yo, por mi parte, he hecho una selección de mis productos favoritos, como acostumbro a hacer. Pero, como siempre digo, no dejen de visitar la página web para valorar por ustedes mismos sus productos.

Espero que les guste. Mil gracias por los comentarios. Un besazo enorme.
Hello everyone!
In order not
to lose the habit
of
recommending new
online
fashion stores,
today I bring
a completely new
for me
, and I imagine
that for some
of you too
:
WSDear
.
It was founded in
2008
, dedicated
to providing its
younger
customers
elegant clothes
and completely in
trend.
Its products
are designed to meet
the needs
of both men and
women,
expressing
perfectly
good taste
, fashion
and elegance
in urban
groups.
The
latest trends
and classic design
are integrated to
meet the needs of
clothing
each time
either
work or leisure.
They also have
a
sumamnete
reasonable prices
always offering
the highest quality.
I, for
my part
, I made a
selection of
my favorite products
,
as I usually
do.
But
as I always say
, do not
forget to visit
the website to
evaluate
for yourself
their products.
I hope you like it. Thanks for the comments. A great big kiss.