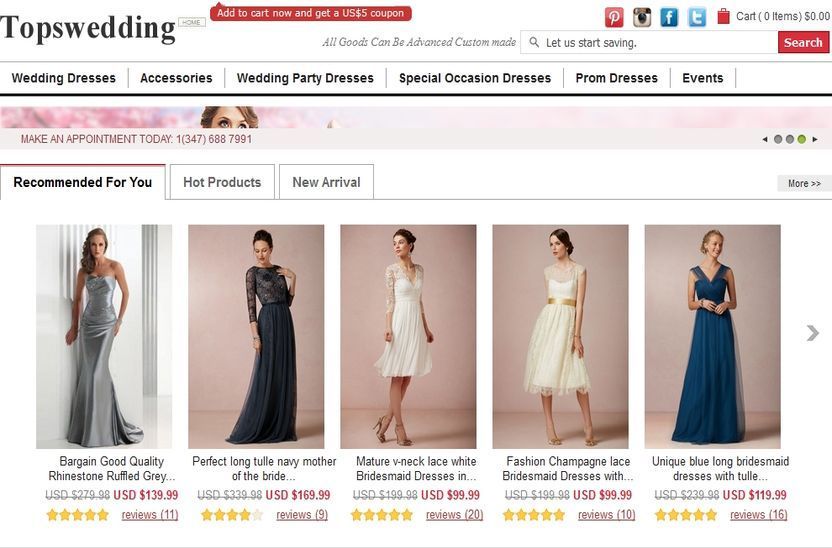 Hello everyone!

To continue with

the habit

,

today

I announce

a new

online

fashion store

:

Tops Wedding

.

It

is specialized in

wedding dresses and

formal dresses

, being a very

experienced

in combining

factors like design

, production and sales

provider

.

Their basic principle

is innovation

and generating

new ideas

and appeal

a lot of

brilliant designers

, workers and

vendors

who have dedicated their

time and effort

to

Tops Wedding

for over ten

years.

Also consider that

should work

based on

the statement

: "The

customer comes first

, service is

supreme

"

, which

offer their customers

the best dresses

and a

delicious

service

.

Something that

strikes me

very much

of this store

is

offering

custom-made dresses

, you can choose

the size and

model

to

deliver images

to made

it

to your liking.

I, for

my part,

choose

my five

favorite dresses

, but

has really

been

a difficult

task

because they have

a myriad of

wonderful products.

I encourage you to

visit

that

website

to see

for yourself

what

they have to offer

.
I hope you like it. Thanks for the comments. A great big kiss
Happy Saturday!
¡Hola a todos! Para seguir con la costumbre, hoy doy a conocer una nueva tienda online de moda: Tops Wedding. Es una web especializada en vestidos de novia y vestidos formales, siendo un proveedor muy experimentado en combinar los factores de diseño, producción y venta. Su principio básico es la innovación y la generación de nuevas ideas y apelan un montón de diseñadores brillantes, trabajadores y vendedores que han dedicado su tiempo y esfuerzo en Tops Wedding durante más de diez años. Además, consideran que deben trabajar en base a la afirmación de: "el cliente es lo primero, el servicio es supremo", por lo que ofrecen a sus clientes los mejores vestidos y con un ervicio exquisitos. Algo que me llama muchísimo la atención de esta tienda, es que ofrecen vestidos por encargo, pudiendo escoger el tamaño y ofrecer imágenes de modelo para que se realicen a su gusto. Yo, por mi parte, he seleccionado mis cinco vestidos favoritos, aunque realmente ha sido una tarea complicada porque tienen una infinidad de productos maravillosos. Les animo a que se pasen por la página web para ver por ustedes mismos todo lo que tienen para ofrecer. Espero que les guste. Mil gracias por los comentarios. Un besazo enorme.
An Unusual Style: el primer "Indoor Blog" del mundo
// The first "Indoor Blog" of the world